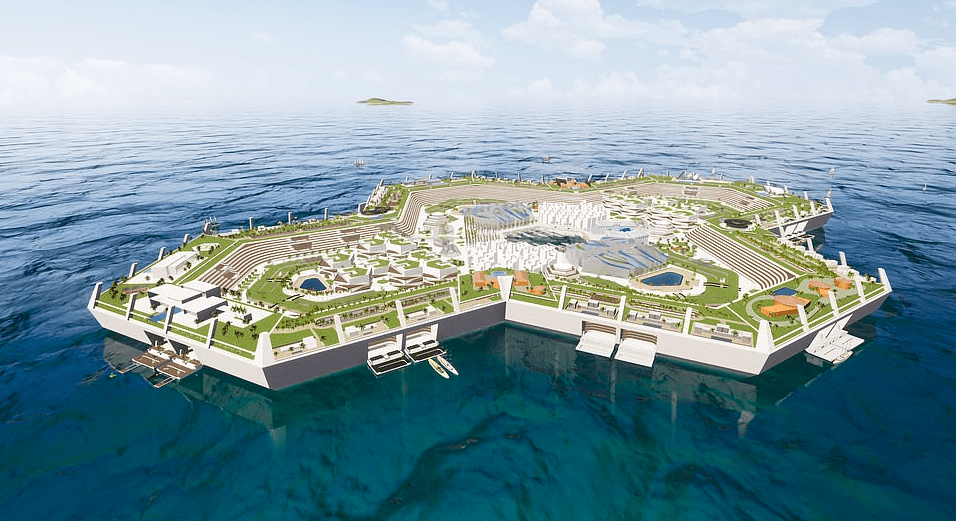 Homes in the world's first floating city have gone on sale – with prices ranging from £14,000 to £1billion.
The man-made Blue Estate island, which will float in the Caribbean Sea, will start at £14,600 for a budget 'Ring Level' studio apartment, but increase to £1.1bn for its mansions.
The island will be constructed from 'ultra-high-performance' concrete modules. It will measure 4921ft by 3,280ft in total, an area half the size of Monaco, and will house more than 15,000 permanent residents, numerous businesses, a state-of-the-art health clinic and an international school, according to the developers.
Construction will begin in 2022 and full completion is expected in 2025. Some properties will be available for completion by 2023, according to the Daily Mail.
According to Blue Estate, the size of the floating city makes it ultra-stable. Seemingly people of the island will not be able to detect even the slightest movement 'far exceeding the stability of the largest cruise ships'.
The outer walls, which the company says will measure more than 150 feet, will 'shrink the biggest waves in the ocean', making the property safe from the wild currents of the Caribbean Sea. In the event of high winds, automatic hurricane shutters would be extended to protect the community, and the estate could be moved out of the way of incoming storms.
The developers plan to power the island using renewable sources to maintain negative CO2 emissions. It is hoped to become one of the 'greenest communities in the world' while also taking full advantage of the island's offshore location to promote a business-friendly environment with no taxes and minimal regulation.