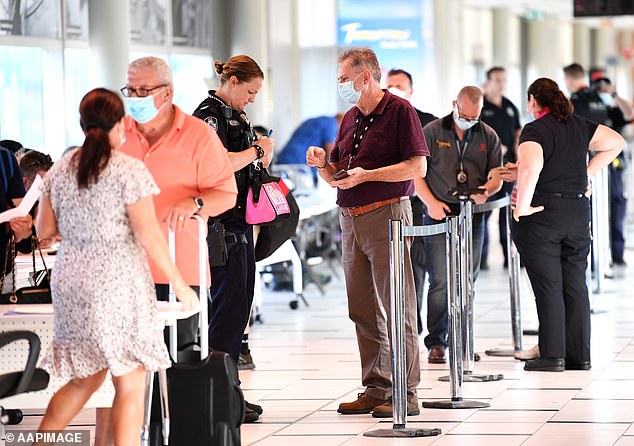 Australians returning home will have to test negative for Covid-19 before boarding flights, National Cabinet agreed on Friday.
The federal government had come under pressure to mandate pre-flight testing after several returned travellers were diagnosed with a highly infectious strain of Covid-19 from the UK.
The National Cabinet also agreed to halve the cap on international arrivals in WA, NSW and QLD to ease pressure on hotel quarantine – and require daily testing for quarantine workers.
Masks will also be made mandatory on domestic and international flights.
International aircrew will have to quarantine and get tested when they land.
Prime Minister Scott Morrison said 80 per cent of Australians registered to return home from overseas are from many countries where the new strain is prevalent.
'This virus continues to write its own rules, and that means that we must continue to be adaptable in how we continue to fight it,' he said.
Mr Morrison explained there was no point banning flights from the UK because the virus was so widespread around the world.
'We anticipate that this will become the more dominant strain of the virus globally. And so the idea that it somehow can be contained just out of the United Kingdom is a false hope,' he said.
And the prime minister also ruled out stopping flights altogether.
'The suggestion that Australia might be able to close off every single flight that comes to Australia was considered by AHPPC and was not recommended to the National Cabinet,' he said.
'Australia needs to continue to function. For example, vaccines need to come to Australia. They come here on planes. As other critical supplies do.
'There are people who need to come to Australia who have critical skills that are involved in supply chains and other essential functions in the country, for everything from medical workers to any other number of specific occupations.
'So, Australia must maintain practical contact to ensure that we maintain the functioning of the nation,' he said.
It comes after a hotel quarantine cleaner caught the new UK strain of the virus from a returned traveller in Brisbane, prompting the state government to plunge the city into a three-day lockdown.
Every state and territory and the Commonwealth has declared Brisbane a hotspot and either banned travel or required quarantine for anyone from the city.
Greater Brisbane will enter hard lockdown from 6pm on Friday. Queensland premier Annastacia Palaszczuk announced locals will have to wear face masks when leaving home.
There are 2.5 million people living in greater Brisbane with lockdown applying to the council areas of Brisbane, Logan, Ipswich, Moreton, and Redlands.
Think of it as a long weekend at home. We need to do this. I've accepted the strong advice from Dr Young,' Ms Palaszczuk said.
'If we do not do this now, it could end up being a 30-day lockdown.' 
Mr Morrison called the lockdown a 'wise decision' and said it was a 'proportionate' response to the threat of the UK strain.
He urged people in Brisbane not to leave, saying 'stay where you are.' 
Residents will only be allowed to leave their homes for four reasons: essential shopping, exercise in the local neighbourhood, healthcare reasons or for work. 
The mutated strain of Covid-19 is believed to be up to 70 per cent more infectious, worrying health authorities.
'Please, everybody, let's be in this together, let's stay at home, look at it as a long weekend at home with your family and friends,' Ms Palaszczuk said.