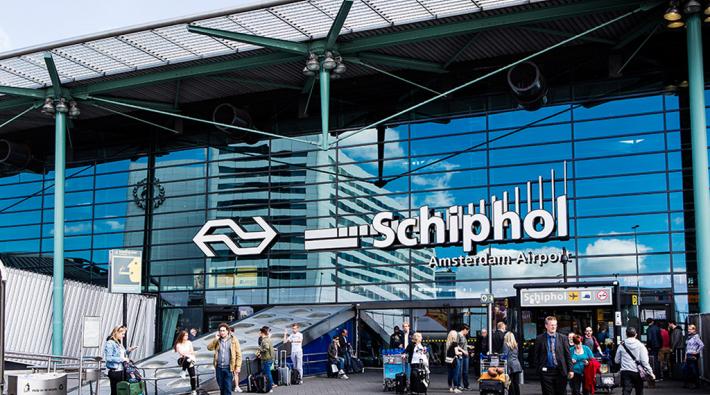 Schiphol Airport Hub Tour  – Aden Helmond-Jones
I was invited by KLM to take a flight from Heathrow to Schiphol to have an extensive tour of Schiphol's airport hub.
Amsterdam Airport is Europe's fifth-largest airport in terms of passengers and third largest in terms of cargo. Schipol handles over 60 million passengers a year. It was opened on 16 September 1916 as a military base.  It serves as one of the home bases for Air France-KLM and its Skyteam partners.
The airport is built as one large terminal (a single-terminal concept), split into three large departure halls, which connect again once airside. The most recent of these was completed in 1994 and expanded in 2007 with a new section, called Terminal 4, although it is not considered a separate building. A new pier is to be opened in 2019 with a terminal extension planned to be operational by 2023.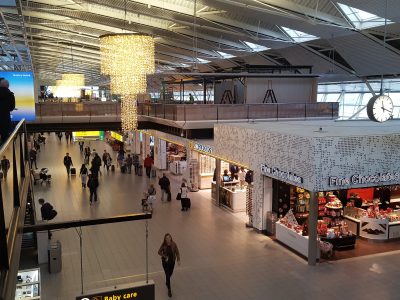 Facilities
The Rijksmuseum operates an annex at the airport, offering a small overview of both classical and contemporary art. Admission to the exhibits is free.
In summer 2010, Schiphol Airport Library opened alongside the museum, providing passengers access to a collection of 1,200 books (translated into 29 languages) by Dutch authors on subjects relating to the country's history and culture. The 89.9 m2 (968 sq ft) library offers e-books and music by Dutch artists and composers that can be downloaded free of charge to a laptop or mobile device.
For aviation enthusiasts, Amsterdam Airport Schiphol has a large rooftop viewing area, called the Panoramaterras. It is not accessible to connecting passengers unless they first exit the airport. Enthusiasts and the public can enter, free of charge, from the airport's landside. Since June 2011, it is the location for a KLM Cityhopper Fokker 100, modified to be a viewing exhibit. Besides the Panoramaterras, Schiphol has other spotting sites, especially along the newest Polderbaan runway and at the McDonald's restaurant at the north side of the airport.
Schiphol has its own mortuary, where the dead can be handled and kept before departure or after arrival. Since October 2006, people can also hold a wedding ceremony at Schiphol.
Schiphol also has a new state-of-the-art cube-shaped Hilton hotel with 433 rooms, rounded corners and diamond-shaped windows. The spacious atrium has a 41-metre-high (135 ft) ceiling made of glass and is in the heart of the building. A covered walkway connects the hotel directly to the terminal. The hotel was completed in 2015.
Environmentally Friendly
Zero waste in 2030. By the year 2030 Schiphol aim to be an organisation that uses only products and resources that can either be reused or recycled or else are entirely biodegradable. They currently try to be as waste efficient as they can by reducing the size of waste.
Waste separation and recycling has reduced their daily waste stream from 30 to 24 tons. The recycling of aluminium, polystyrene, tins, cardboard, plastic film and glass, among other things, is no longer an expense but makes money.
We were given a tour of the waste area.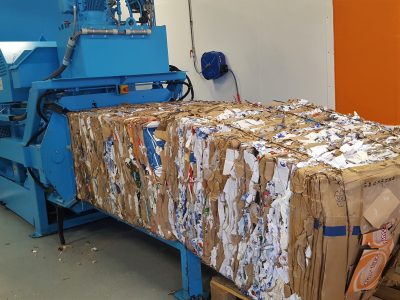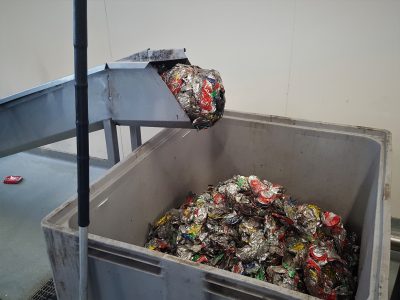 Airline Catering
KLM Catering Services supplies are one of the five largest airline caterers in Europe.
More than 55,000 meals from KLM Catering Services end up with the right passengers every day via one of the most sophisticated catering systems in the industry.
With more than ten special menus, KLM Catering Services is able to fulfil virtually every dietary wish, from lactose-free or gluten-free to low-sodium foods. Of course, they also offer kosher or halal meals and foods based on special medical requirements.
Automation and robotization help to streamline and accelerate the processing and logistics of your catering. The meal assembly line of KLM Catering Services is one of the most modern in the world, where advanced robot arms perform repetitive actions faster and with virtually no margin of error.
Here I am in the catering department.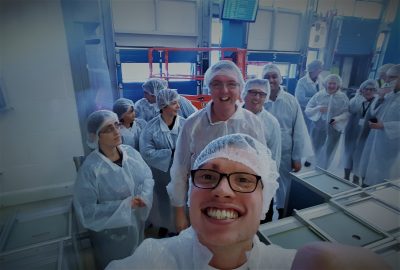 This concluded our tour and we then boarded our plane back to Heathrow.
For more information about Schiphol airport  – https://www.schiphol.nl/en/