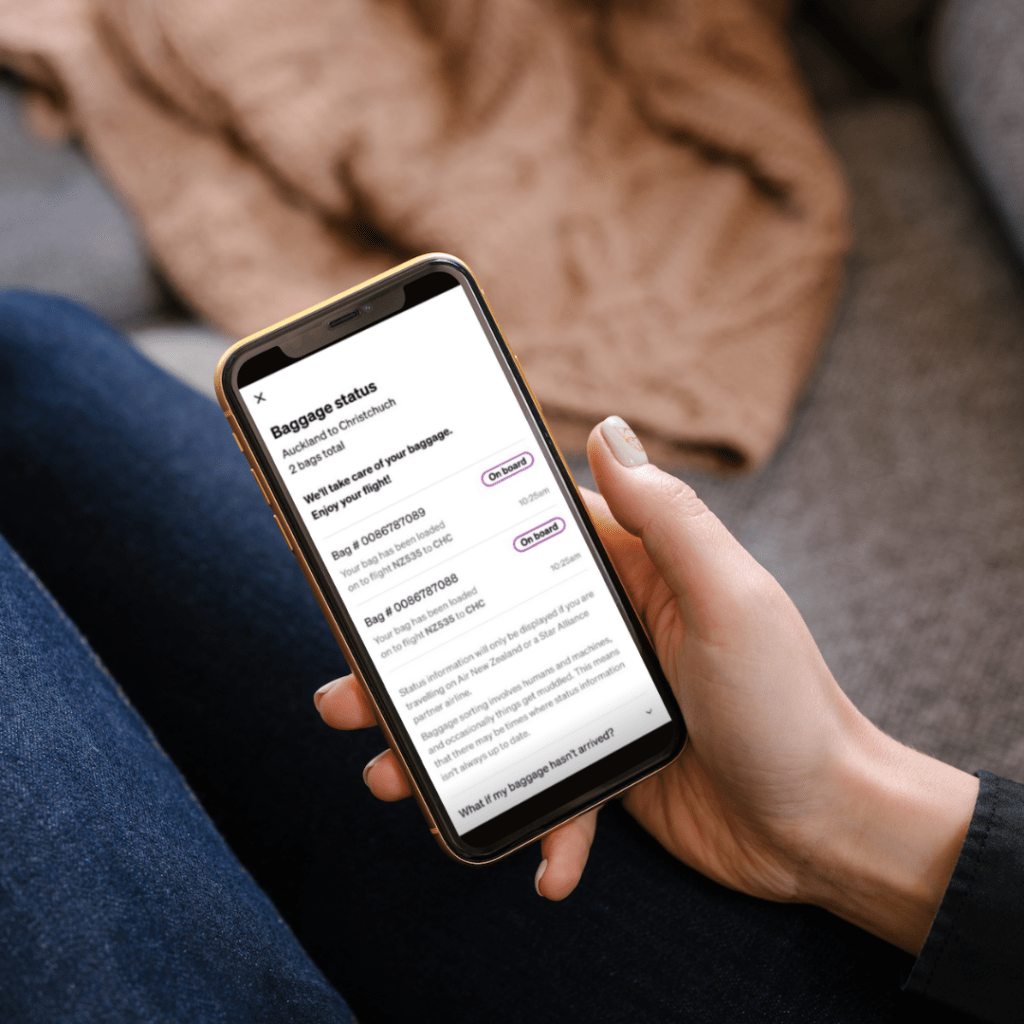 Air New Zealand customers will soon be able to track the location of their baggage using the airline's app.
The new feature, which has just completed a pilot with domestic travellers, will allow customers to see the last-recorded status of their bags, from check in, to being loaded onto the plane, to arrival at the destination.
The feature is being gradually rolled out to customers, starting with 25% of Air New Zealand app users travelling domestically, and 5% of app users travelling on a short-haul international flight. It is expected to be available to all app users by the middle of the year.
Air New Zealand chief digital officer Nikhil Ravishankar said customers could track the journey of their bag and receive guidance on what to do if it had "taken a detour". Eventually, customers would also be able to report and monitor mishandled baggage via the app.
"Baggage tracking puts information directly in the hands of our customers, streamlining processes, relieving pressure on our teams, and giving passengers peace of mind that their luggage is on the journey with them."
Mishandled baggage was a major issue over the peak summer travel period, with hundreds of lost and unclaimed bags piling up at Auckland Airport.
Ravishankar said Air New Zealand had also worked with the Ministry of Primary Industries Biosecurity Team to avoid this kind of backlog in the future, by developing a new digital for its Baggage Tracing Unit to expedite clearance processes and remove the requirement to use paper receipts.
"Since the challenges earlier this year, the introduction of digital tools has meant we have cleared the baggage backlog and we are now better prepared to deal with any future disruptions that may occur."
Baggage trackers became a hot travel accessory in 2022 as the short-staffed aviation sector struggled to keep up with post-Covid demand, leading to an extraordinary number of bags going missing worldwide.
However, there was some confusion over whether bluetooth trackers like the Apple AirTag were allowed to be used in checked baggage. Air New Zealand was among the airlines that initially said customers shouldn't be using them, as they were portable electronic devices which couldn't be turned off, which went against dangerous goods regulations.
The airline later confirmed they were allowed, after seeking the approval of the Civil Aviation Authority.
Written by Siobhan Downes
Source Stuff.co.nz