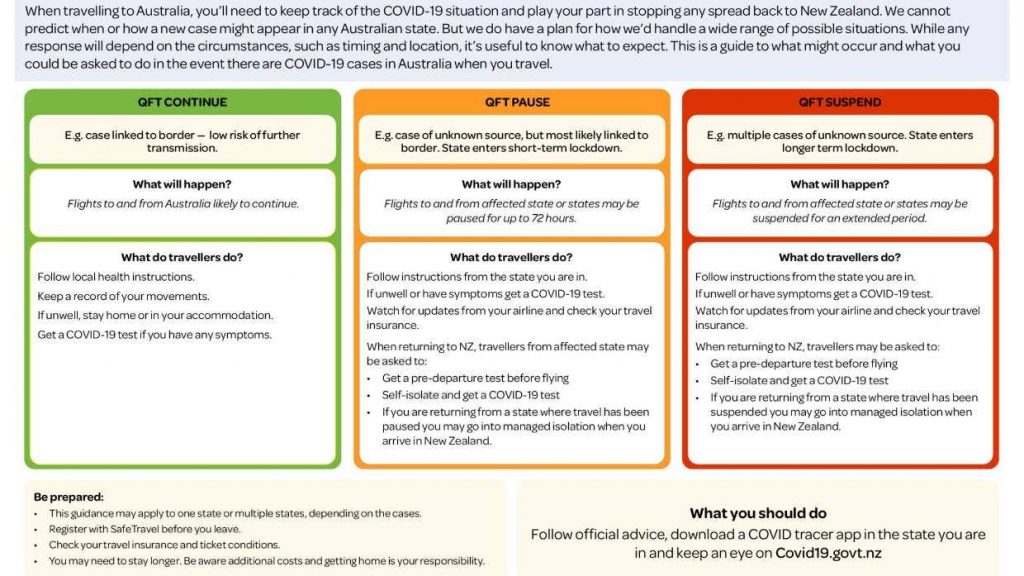 The two-way quarantine-free bubble with Australia is set to commence from 11.59pm on April 18. Prime Minister Jacinda Ardern made the announcement on Tuesday, but stressed that travellers should prepare to be stuck in Australia if there are Covid-19 outbreaks.
"We're confident enough to open up, what we are saying to travellers is just be prepared," she told RNZ's Morning Report on Wednesday.
Cabinet agreed on a traffic light system to respond to outbreaks in Australia in a timely manner. It operates similar to the Covid-19 Alert Level system in that it may change from green to amber to red.
At every level, travellers are advised to follow all official advice and download the contact tracing app for the Australian state they are visiting, stay home if sick and get a Covid-19 test. The Government is also advising people register with SafeTravel, check travel insurance, and have a contingency plan in place should the situation change.
Green light: Continue
In the green phase, two-way quarantine-free travel remains unaffected.
There may be cases detected at borders on either side of the Tasman, but these cases are likely, as Ardern explained, "well identified and well contained".
Green flights between the two countries are separated from high-risk red flights in airports, allowing travellers to safely enter the community on arrival.
There is no requirement for travellers to New Zealand to enter into mandatory managed isolation on arrival, nor are there any pre-departure testing requirements.
Amber light: Pause
If the bubble turns amber, it means all flights will be paused for at least 72 hours. This is similar to what Australia did with inbound green flights when cases emerged in Auckland in January.
This change would be made following the detection of a case that is likely linked to the border, but its origins remain unknown. Ardern said cases that have a question mark, or may be widespread, fit into this category.
At this stage, additional requirements may be imposed on travellers to New Zealand. The Government may introduce pre-departure tests, and self-isolation and tests on arrival. People returning from a state where travel has been paused may go into managed isolation.
Red light: Suspension
The most extreme response to an outbreak with multiple cases of unknown origins in Australia is the move to red. In this phase, all flights to and from impacted states will be suspended for an extended period of time.
If an Australian state enters lockdown as a result of the cases – like how Brisbane entered a snap three-day lockdown at the end of March – New Zealand will mirror that response with the suspension of services.
Kiwis may be required to stay in Australia until restrictions lift. Travellers are advised to contact their airline for updates and check travel insurance.
Additional testing and isolation requirements on arrival may be introduced. Speaking to Australia's Sunrise, Ardern said they aren't anticipating the use of managed isolation and quarantine to be a "common response" to outbreaks.
Who makes the decisions?
If outbreaks are detected in any Australian state, a small group of Cabinet ministers will decide on any changes to the bubble arrangement.
Ardern told RNZ the group will include herself, Covid-19 Response Minister Chris Hipkins, Foreign Affairs Minister Nanaia Mahuta, and other border-related ministers. The group will make decisions based on information from the Director-General of Health Dr Ashley Bloomfield.
"[That's] exactly what we've been doing to date. What's key for us … is the ability to move quickly so we'll always be informed by the director-general of health," she told Morning Report.
Full article on Stuff