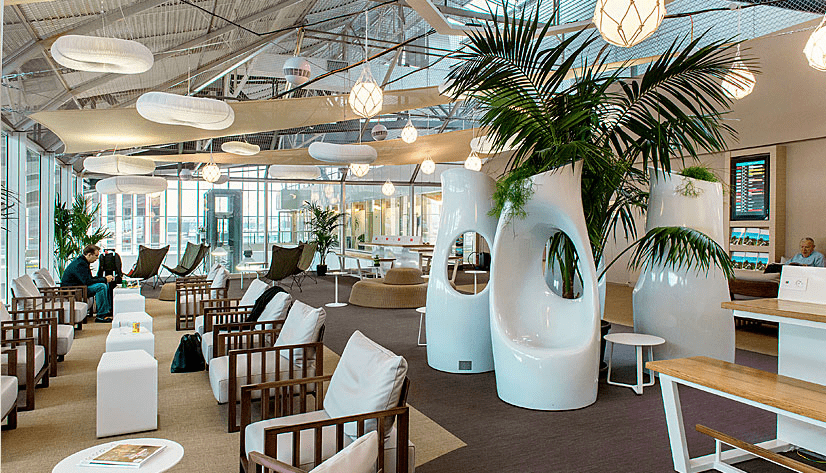 The Canopy Lounge  – Nice Airport  – Joanne Fairhurst
Nice – Terminal 1, Non-Schengen (Inside Security) – open 8am – 9pm
I recently visited The Canopy Lounge at Nice Airport which is through security to the departure gates for international flights. You then need to take the stairs or the lift up to the lounge.  There is an entry fee of 30.00 Euros if you are not entitled to enter the lounge with your flight ticket or lounge pass.
So what is on offer?
 Newspapers & Magazines 
 Printers & Copiers 
 Beer & Wine (champagne on request)
Spirits & Liquor 
 Flight Monitors  
  Internet Terminals  
Snacks
Non-Smoking  

TVs 
Wi-Fi
The canopy lounge includes plenty of relaxing areas to sit and they are light and airy.
The food consists of snacks (biscuits, sweets etc), salads and soup, sandwiches, small savoury canapes and small desserts.   There is no hearty meals on offer but there is sufficient choice.
There is a range of spirits, beers and local red,white and rose wines.  I did see a sign saying that champagne was available on request.
There are plenty of monitors for you to be able to keep an eye on the time for your flights and there are also plenty of charging points for laptops, phones and notebooks.
Also included is an area specific for seating at with your laptop, handy in case you need to continue with work communications whilst waiting for your flight.
I did visit the toilet facilities which were clean and tidy but I did not notice shower facilities.
For further information on this lounge please follow this link  – 
Canopy Lounge