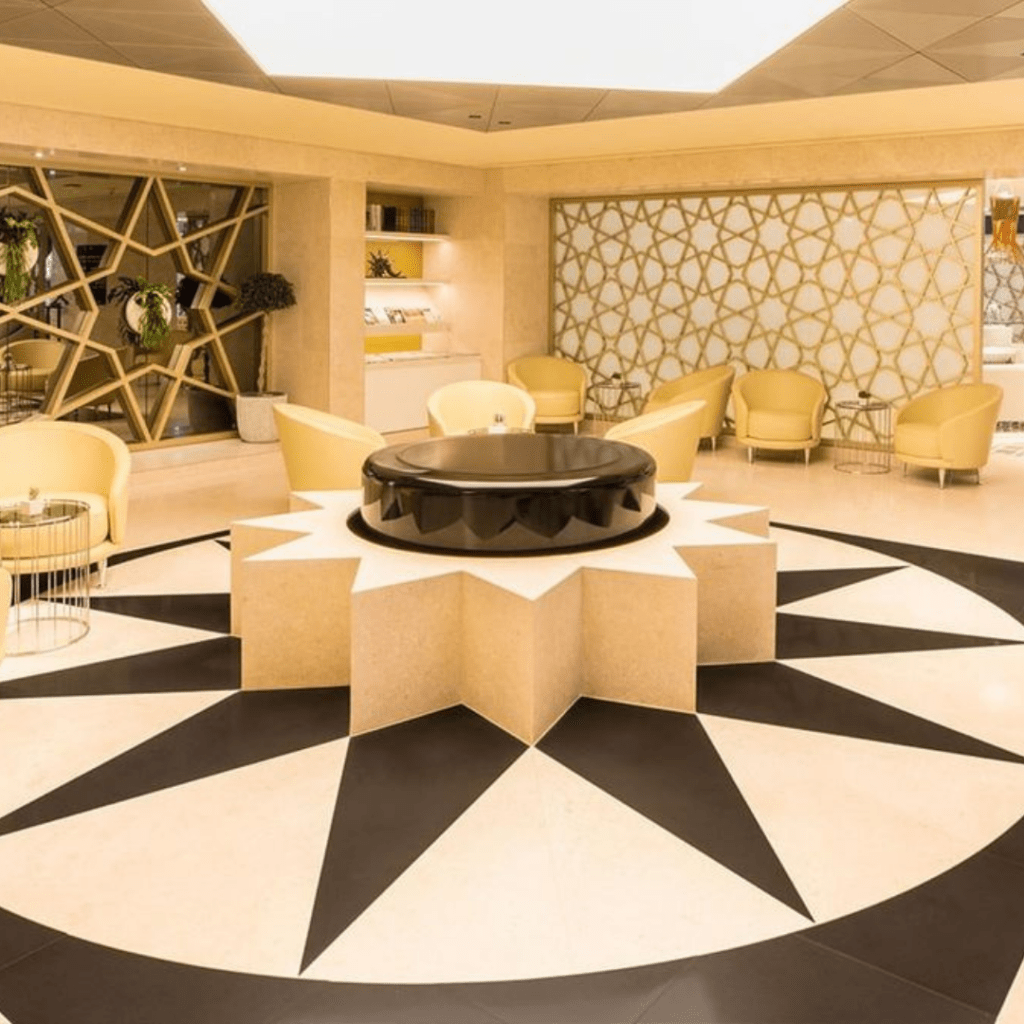 The boutique business class lounge will become the go-to for eligible Qantas flyers.
Qatar Airways' excellent Premium Lounge at Bangkok's Suvarnabhumi Airport is once again open, with its extended hours suiting not only the Gulf airline's schedule but that of Oneworld partners Qantas, along with some flights from Cathay Pacific and many by Malaysia Airlines.
Travellers can expect an experience along the same lines as Qatar's other 'out-station' lounges such as Singapore and London Heathrow: a relaxed environment with comfortable furnishings; a restaurant-style Brasserie dining room with à la carte menu; a self-serve buffet spread at the Global Deli counter; a cocktail bar, and several well-appointed showers suites.
This makes it one of Bangkok's best business class lounges – and when we say business class, we mean it.
In keeping with Qatar Airways' established practice, this 'Premium Lounge' is reserved for premium-class travellers, not frequent flyers – regardless of what lofty status they hold.
In short, access to Qatar Airways' Bangkok Premium Lounge is restricted to
first class passengers (and a guest) on Qatar Airways or any Oneworld member
business class passengers (no guesting) on Qatar Airways or any Oneworld member
There's even an exception to the business class rule: lounge access is excluded if you're on one of Qatar Airways' 'unbundled' Business Lite fares.
Qatar Airways' Bangkok Premium Lounge is located on Level 3 of Concourse D (across from gate D8 and in in a lounge cluster along with Singapore Airlines, China Airlines, Turkish Airless and Japan Airlines).
Qatar Airways tells Executive Traveller its Bangkok Premium Lounge is open daily at
4am to 7.40am
4.25pm to 8pm
9.50pm to 1.25am
That extensive sweep of the clock takes in Qatar's 1.50am, 8.05am and 8.25pm departures – the first two of which feature the A380 superjumbo – but it also works in favour of business class travellers on Qantas flight QF24, which is wheels-up from Bangkok at 6pm.
If you're on QF24 but not in business class, your Qantas Gold or Platinum status gets you into the Emirates lounge located on Concourse G, towards the D gates wing.
A Qantas business class ticket also provides entry into the Emirates lounge, but we suspect most people would rather spend their pre-flight hours in the super Qatar Airways lounge.
Business class passengers on most Malaysia Airlines flights from Bangkok to Kuala Lumpur – except for mid-morning departures) will also be able to rest up at the Qatar Airways lounge.
However, only some Cathay Pacific flights to Hong Kong fall within the lounge's opening hours (with Cathay yet to reopen its own lounge at Bangkok) and none of Finnair's morning departures qualify.
If you're bound for Bangkok, don't miss our selection of the best hotels in Bangkok.
Source ExecutiveTraveller.com