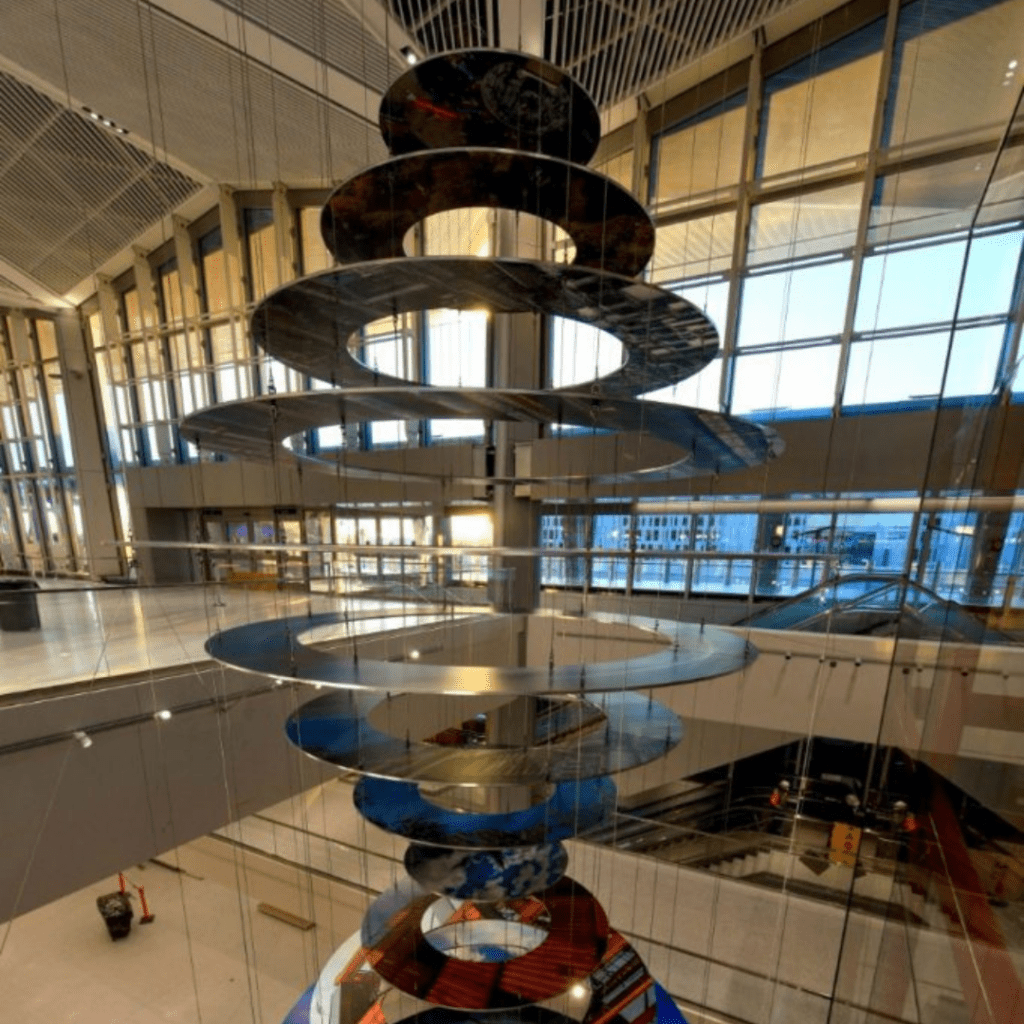 State-of-the-Art 1 Million Square Foot, 33-Gate Terminal ? the Largest Design-Build Project in New Jersey History ? Boasts 21st Century Technology, Inspiring Public Art, and World-Renowned Retailers and Locally Inspired Concessions
The Port Authority of New York and New Jersey today announced the operational opening of the $2.7 billion new Terminal A at Newark Liberty International Airport, representing the largest single investment in New Jersey in the agency's history.
The new Terminal A, which replaces an outmoded terminal that first opened in 1973, features state-of-the-art passenger amenities, local artwork, digital technology and dining and retail options provided by nearly 60 regional, national and global brands, including six retailers from Newark, Elizabeth, and Jersey City. The terminal features approximately 1 million square feet of space and offers 33 gates to handle larger aircraft, as well as a modernized common-use check-in area, and security and baggage claim areas expected to efficiently handle an estimated 13.6 million passengers a year. In addition to the new terminal, the $3.3 billion Newark Liberty redevelopment program also includes a $400 million integrated public parking garage with new centralised rental car facilities and $175 million for south airfield paving.
"It is my honour to unveil to the world the largest single investment in New Jersey in the Port Authority's history, as well as the most considerable infrastructure investment I have had the privilege of overseeing during my administration," said New Jersey Governor Phil Murphy. "Since Day One, I have championed transformative upgrades to our pivotal transportation network, which connects New Jerseyans not just to our American and global neighbours, but to the economic opportunities afforded by these crucial relationships and exchanges. Every visitor to Newark Liberty will enter a facility that is operationally efficient, visually appealing, and – most importantly – quintessentially Jersey."

"Newark Liberty's new Terminal A will serve as a stunning showcase of the art, history and cuisine of the Garden State," said Port Authority Chairman Kevin O'Toole. "This new terminal reflects the best of our region, and with monthly air passenger levels across the agency's regional airports at record highs, the operational opening of this beautiful new terminal could not have come at a better time."

"The first airport operations out of the world-class Terminal A mark a truly historic milestone for Newark Liberty," said Port Authority Executive Director Rick Cotton. "This is an important step forward in our vision to transform the airport into a state-of-the-art gateway to the world. We are committed to continuing elevating the passenger experience by building modern, 21st-century facilities like this terminal, delivering superior amenities and a real new Jersey sense of place."

"The long-awaited upgrade of Terminal A is a major modernization and a place where all can enjoy before or even after a flight," said Elizabeth Mayor Chris Bollwage. "I was proud to be there welcoming flyers coming off the first arrival and into Elizabeth. Passengers can now walk through the new terminal and see local references, from art to shopping, and of course a place to stay in our hotels. Elizabeth is prepared to show the millions of travellers that will visit annually, what this City has to offer."

"When it was opened in 1928, Newark Airport was the first such facility in the tri-state area, which made it a pioneering and cutting-edge facility from the start," said Newark Mayor Ras J. Baraka. "Nearly 100 years later, Newark Liberty International Airport is still a pioneering and cutting-edge facility, offering worldwide flights, world-class amenities, and first-rate customer service. Today's opening of Terminal A will add to that proud tradition of excellence and provide jobs and career opportunities for Newark residents. I congratulate the Port Authority and its entire team on this achievement."

"My team at Munich Airport NJ LLC and I are very proud of the launch of this innovative, passenger-focused terminal," said Jost Lammers, CEO of Munich Airport. "Terminal A is a genuine commitment to New Jersey and also represents a new, unique kind of airport experience. I look forward to passengers exploring the thoughtful sense of place presented through exceptional food and beverage offerings, artwork and immersive technology."
Travellers are greeted by inspiring public art as they move through the new terminal, which showcases the work of 29 local artists with unique art installations that support the Port Authority's vision for a transformative customer experience offering a distinctive New Jersey sense of place. Complementing the comprehensive public art program is an immersive digital journey, created by multimedia studio Moment Factory, that showcases the Garden State's renowned landmarks, art, and innovations through a series of permanent large-scale multimedia installations.
In this first phase, 21 gates will be utilized by Air Canada, American Airlines, jetBlue and United Airlines with the remaining 12 gates scheduled to become operational later this year. Additionally, Delta Air Lines will move its operations in the second phase.
ECONOMIC BENEFITS
Terminal A is expected to generate more than $4.6 billion in regional economic activity, create more than 2,500 jobs and provide more than $1.9 billion in wages. As of June 2022, the Terminal A program had awarded 94 sub-contracts to minority and women-owned business enterprises (MWBE) totalling more than $686 million and $213 million for 92 sub-contracts to New Jersey firms.
Newark Liberty currently provides jobs for approximately 19,250 people directly employed at the airport. It contributes more than $29.3 billion in annual economic activity to the New York-New Jersey metropolitan region, supporting more than 128,000 total jobs and nearly $10.8 billion in annual wages.
Source Aviation24.be