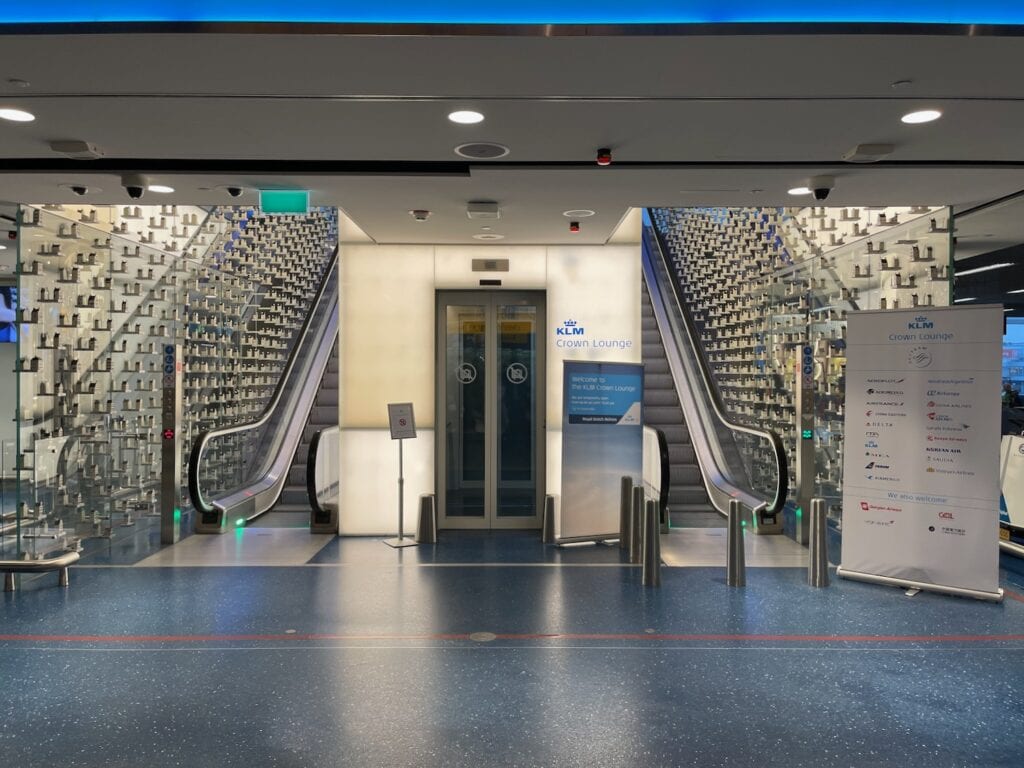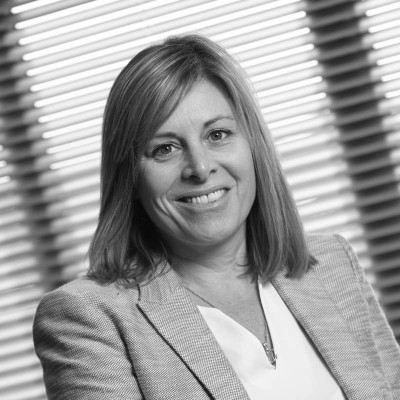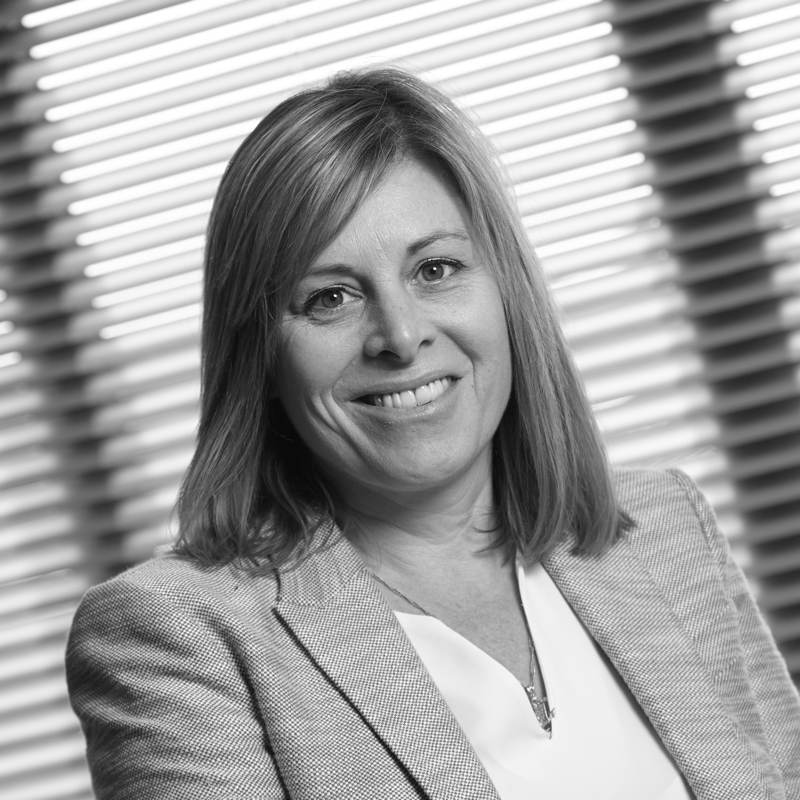 A review of KLM Crown Lounge 52 by Jo Fairhurst
Travel Date  – Thursday 5th May 2022
After a short visit to Holland to meet with clients I was lucky enough to have a lounge pass to the KLM Crown Lounge, which is located on concourse F near the food court.
The lounge is open daily from 6:00AM to 10:00PM
You can access this lounge as a SkyTeam business class passenger, Flying Blue Platinum or Gold member, or as a SkyTeam Elite Plus passenger. You can also purchase a pass to this lounge for 65EUR.
To enter the lounge you take the escalator of which the walls are covered with roughly 1,000 KLM Deft Blue Houses on display here and around the lounge.  These cute houses contain gin and are given to business class passengers on longhaul flights.
At the top you are  met by a lounge attendant and you can simply scan your boarding pass (or presumably your Skyteam card) to gain access to the lounge.
My first impression of the lounge was that it a vastly superior lounge in comfort and style to other lounges I had previously visited. The lounge is on two floors including an outside area overlooking the concourse.
In the lounge there is plenty of charging points for phones and laptops with areas designed for working quietly at your laptop.
There are also many relaxation areas and large TV screen entertainment.
There are several areas to obtain food and drink and both cold and hot snacks. The options when I visited at early afternoon were salads, sandwiches, soups, pasta's, cakes and desserts.  There was plenty of choice.
For alcoholic drinks there was two bars.
One on the lower level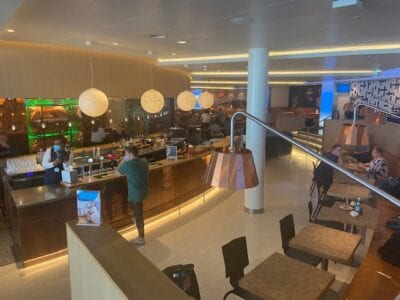 And another on the second level called Blue with and outside terrace.
In the Blue Bar you can pay for premium spirits, wines and cocktails.
Other Services available
Sleep Cabins
The cabins offer a small but complete space with everything you need and nothing you don't. Ideal if you appreciate some space, but don't need the fuss of a hotel.
33 inch TV's, fast Wifi, multiple power outlets. The cabins are secure and soundproofed.  Queen sized beds and a personal sink.
Showers
Showering in the Crown Lounge
Reserve your shower cabin via the Lounge Kiosks, located throughout the lounge. You can also ask our Personal Lounge Assistants to make a reservation for you.
Is your reservation confirmed? Head to the SEA area in the Non-Schengen Crown Lounge when it's your reservation time. A few moments before your reservation time, you'll receive an e-mail with a QR code. Use this code to easily open your shower cabin.
In the cabin, you'll find fresh shower gel by Rituals, a stool to sit down and several pins to hang your clothes and other belongings. Of course, a fluffy towel is provided. Need a comb, shaving kit, toothbrush kit, shower cover or hair dryer? Please ask our Personal Lounge Assistants upfront.
Below is a short promotional video provided by KLM.
Conclusion
If you get a chance to visit this lounge it is a must.