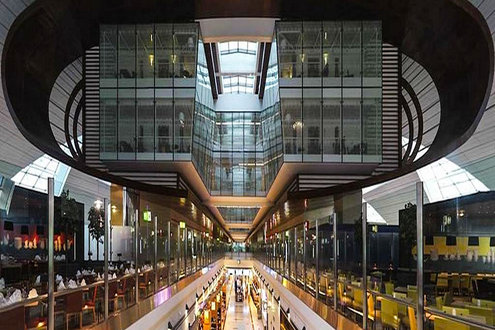 The Dubai International Airport hotel
A visit by Natasha Nel  – October 2019
Luxury meets travel at the Dubai International Airport Hotel
I recently had an eight hour stop over in Dubai and decided to try the facilities of The Dubai International Airport Hotel.
During those long haul flights, sitting in economy class all you desire is your own space with a soft comfy bed to break up your travel. This is where the Dubai International Airport fits right in, without leaving the airport or passing through customs.
With over 300 rooms ranging from Presidential suites to Deluxe Rooms, this hotel has everything you need to make travelling smoother. Adding to their many amenities and convenience, they have a staff member collecting you from your gate to take you straight through to the hotel check ins that's located between gates one and three.
Depending on the room size you can find everything you require for a restful night sleeps from toiletries, high speed internet, flat screen TV, massage chair, automatic mini bar and complimentary water and coffee / tea options.
Dubai International Airport further offers discount vouchers to help you indulge in a scrumptious meal or day spa.
Dubai International Hotel is located inside Dubai International Airport with access to Dubai Duty Free Shopping areas, Post Office, Mosque, Currency exchange, ATM, Bank, Medical Centre and other facilities available within the Airport with only a maximum of a 20 minute walk to the furthest gate.
For more information or bookings you can go directly to https://www.dubaiairporthotel.com/