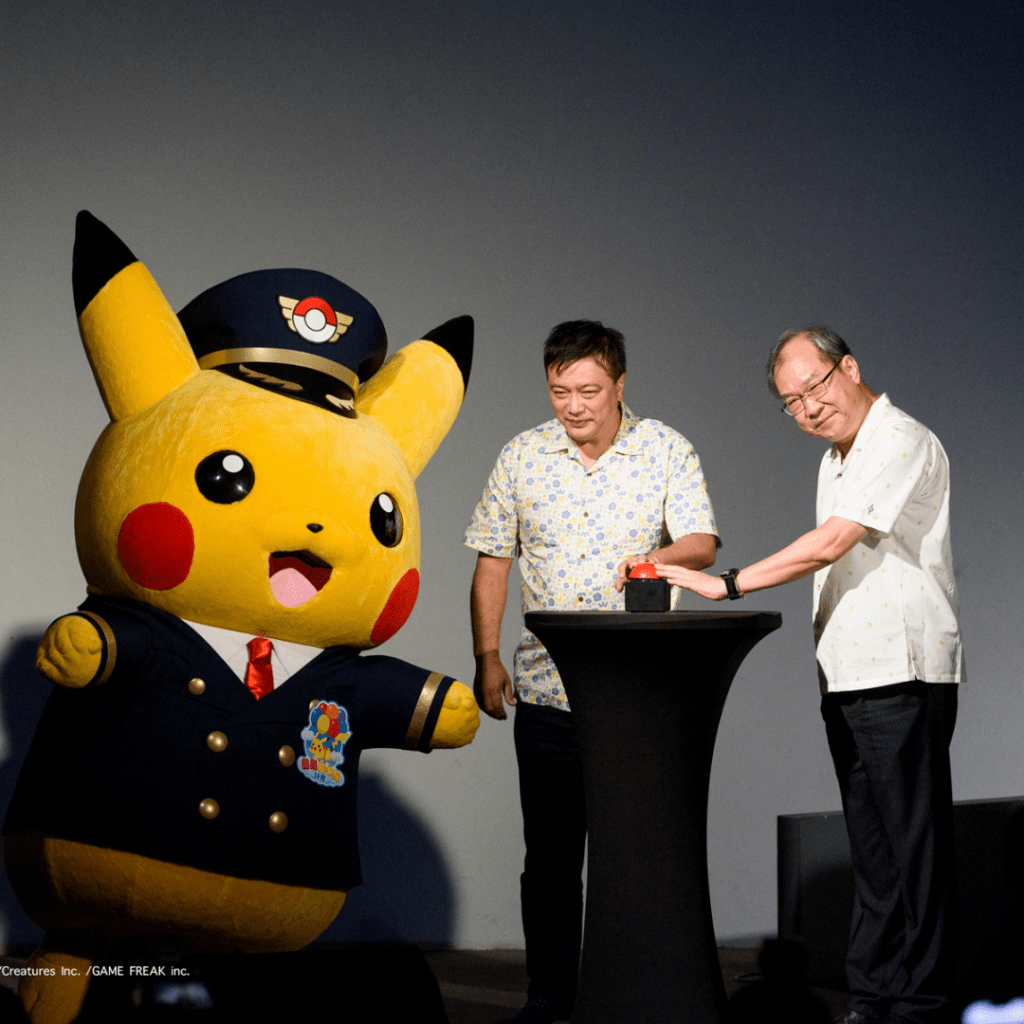 On September 28th, Taiwan's flagship carrier China Airlines finally revealed its 'Pikachu Jet CI,' featuring the first-ever Pokémon liveried aircraft in Taiwan. The uniquely adorable livery was painted on one of the airline's Airbus A321neo aircraft registered B-18101, which was also the first of the aircraft type delivered to the airline in November last year.
Let's meet 'Pikachu Jet CI'!
The aircraft livery came about as China Airlines participated in The Pokémon Company's 'Flying Pikachu Project.' In return, The Pokémon Company designed the fuselage livery exclusively for the Taiwanese carrier. Dubbed as the 'most colorful livery' in the history of China Airlines, the Pokémon livery took approximately three weeks to apply.
China Airlines had invited front-line healthcare workers and travel industry members to witness the birth of 'Pikachu Jet CI' on September 29th. Photo: China Airlines
China Airlines Chairman Su-Chien Hsieh celebrated the revealing of the new livery and recognized the significant efforts required to make it come to life, commenting:
"The Airbus A321neo aircraft chosen for the livery is the latest next-generation passenger aircraft to be introduced by China Airlines. Painting the livery was an international effort involving the best engineers at China Airlines Maintenance Division and Japanese painting experts who traveled all the way to Taiwan."
Including Pikachu, the primary featured Pokémon, the livery featured a total of eleven Pokémon characters such as Togekiss, Munna, Jigglypuff, Snorlax, Swablue, Slowpoke, Teddiursa, and Shaymin. A slightly more specific detail is that a hidden egg with Pikachu and Shaymin is visible above the cockpit window, greeting the world as though they were pilots flying the aircraft.
In the spirit of the 'Pokémon Air Adventures'
Given that Taiwan was one of the more restricted countries in the post-pandemic aviation era, China Airlines hopes that the liveried aircraft will bring nostalgia and added excitement to passengers as they reach their vacation destination. But before 'Pikachu Jet CI' embarks on its first commercial passenger flight, the Taiwanese carrier has organized a one-day charity micro-trip on September 30th for the Taoyuan-Taipei/Songshan route.
Then on October 2nd, the unique aircraft will take off on its first flight on the Taipei/Songshan-Tokyo/Haneda route carrying Pokémon fans of all ages. To celebrate the inaugural flight of the special livery, several Pokémon characters, upon check-in, will join passengers in the form of boarding passes and name tags. Onboard, exclusive Pokémon-themed supplies, such as themed meals, tray mats, paper cups, pillows, and mixed snacks, will also be featured on the aircraft.
Source SimpleFlying.com