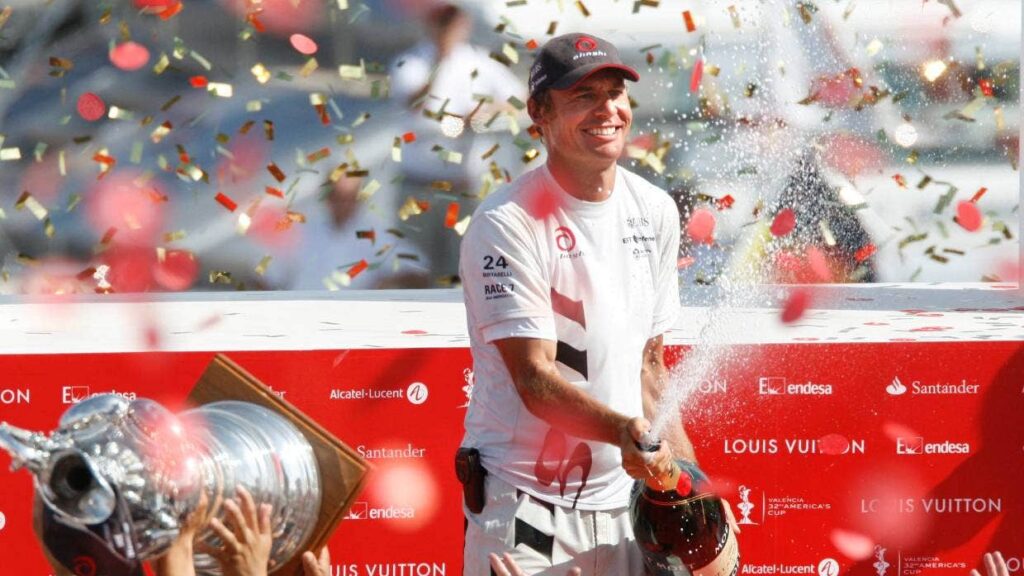 The 2024 America's Cup just got real.
Forget the ongoing issue of where the regatta will be held, it now has credible teams willing to contest it, none more so than Alinghi, the double champions from Switzerland who are back for more after sitting out the last three editions.
Their backer Ernesto Bertarelli obviously likes what he sees with the foiling monohulls and the decision that they will be retained for the next two editions makes him believe it can be won again from Team New Zealand.
Alinghi's return amongst "several challenges" received when entries opened on December 1, puts to bed the ridiculous claims from several leading international yachting commentators that the protocol for the next America's Cup had got so lopsided that it could become a two-team contest between the Kiwis and challenger of record Britannia.
Look to see the big three from last time – Britannia, American Magic, and Luna Rossa – back in the challenging fleet but tempting Alinghi back is a coup.
Alinghi's presence adds some much-needed power to a regatta that has had its credibility questioned and is still fighting questionable forces trying to derail its planning.
Bertarelli is a winner, a master planner, and someone to be respected in yachting's toughest game. While he has a fortune to play with, he won't have signed up for this on a whim.
His presence is likely to encourage others, though his ruthlessness and proven precision could also have second thoughts hitting some.
Alinghi have yet to confirm their entry themselves. Their official line reads: "The America's Cup remains as exciting as ever when it comes to secrets and speculations. The Alinghi Sailing Team is following closely all developments with the 37th America's Cup. We will be in touch soon with further news."
Read what you will into that but "further news" is likely to confirm a heavyweight alliance with Red Bull Racing as the America's Cup's new high-speed environment encourages increasing involvement from Formula One franchises.
Britannia's partnership with F1 champions Mercedes adds new dimension to yachting's pinnacle event and a Red Bull rivalry on the water would take things to another level.
With Red Bull trying to see their premier driver Max Verstappen through to his maiden F1 drivers' title against a resurgent Lewis Hamilton, Alinghi's formal Cup confirmation might not happen until that tense battle is sorted out.
That could be as soon as this weekend's inaugural Saudi Arabian GP which just happens to be held in Jeddah, one of the locations in the mix to host the America's Cup. Otherwise it will go down to the final race in Abu Dhabi.
The opening of entries and the ghost of the Alinghi returning to haunt Team New Zealand after comprehensively beating them for the Cup in 2003 and 2007 is also a timely reminder of what the defenders are up against.
It's suddenly spiced up. There's a renewed rivalry from the bitter days when Bertarelli raided the Team New Zealand stocks to secure Russell Coutts, Brad Butterworth and other leading sailors.
Don't be surprised if Butterworth, who still sails with Bertarelli on big boats, emerges as a key figure in this next campaign.
On Thursday members of the Royal New Zealand Yacht Squadron will vote at a special meeting on a remit trying to force Team New Zealand to defend the Cup in Auckland.
Well-intentioned, it flies in the face of Team New Zealand's insistence that sufficient funds can't be raised in New Zealand to make them competitive enough to complete a three-peat of Cup wins at home. The money and armoury required lies in an offshore hosting fee.
Alinghi's powerful return alongside the bottomless funds of Britannia and their backer Sir Jim Ratcliffe provides the voting members of the RNZYS with billions of reasons why they need to weigh up their decisions carefully.
The stakes have raised, the 2024 America's Cup is real. And it's going to be really interesting from here.
Complete article on Stuff.co.nz